News & Events
NEW! Special promotion price of $12.99 on the ebook of THE MANSON WOMEN AND ME.
Listen to Nikki Meredith interviewed on KQED's Forum with Michael Krasny in "Exploring the Psyche of the Manson Women" here. Find out what Nikki learned in the process of writing the book when she explored "what motivates ordinary people to do extraordinarily horrific things."
And here's Nikki (and Big Bird) in the Green Room of KQED before the show.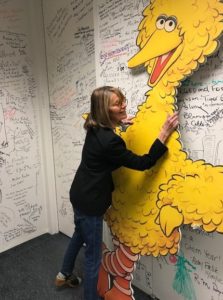 Nikki was also interviewed by the Marin Independent Journal to discuss what drove her to write The Manson Women and Me. "Meredith believes a lot of what drives jihadists today is what drove the Manson women — they're idealistic and searching for meaning. To write them off strictly as psychopaths ignores the bigger issues, she believes." Read more here.
Note from Nikki: "My thanks to Michael Krasny, KQED Forum, Book Passage Bookstore & Cafe and over 150 members of the Marin community for the conversation tonight about my new book. I was a bit overwhelmed with the standing room only crowd and loved the Q&A session about why. Delighted that my son Ben Holbert drove all the way up from Carlsbad and my daughter Caitlin Meredith flew in from Austin."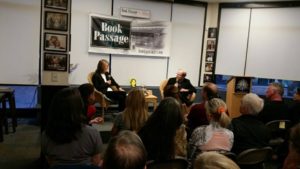 Thanks for a wonderful review at Lucien Welsh's blog! Lucien writes that THE MANSON WOMEN AND ME is "a very insightful and tastefully written profile on two women involved in one of the most famous crimes of the 20th century. Nikki Meredith is incredibly detailed in her research and her prose without being exploitative in any way or excusing the crimes." Read more of the review here.
Book Giveaway For The Manson Women and Me: Monsters, Morality, and Murder is now closed. There were over 1,000 entries. Thanks for entering! And thanks to GoodReads for hosting.