News & Events
The Continuing Saga of Leslie Van Houten's Parole
Will he or won't he?
On January 30th of this year, the California Board of Parole Hearings once again recommended that Leslie Van Houten be released.   It's the third time the board has so recommended.  The first two times, then-Governor Jerry Brown overturned the decision.   What happens next is up to newly elected Governor Gavin Newsom. After a 150-day review process, the board's decision will be sent to him for either support or reversal.  Led by Debra Tate, Sharon Tate's youngest sister, the forces to keep Leslie in prison forever mobilized immediately. If anything, the opposition seems to gather more steam as times passes; there's no question that upholding the parole board's decision will require political courage.  Does Newsom have it?
He's taken chances in the past.  In 2004 when he'd been mayor of San Francisco for only 36 days, he ordered that gay marriages be performed in city hall in defiance of a law voters had passed in 2000 defining marriage as between a man and a woman. Some powerful Democrats such as Dianne Feinstein, were critical of the move and believed that it contributed to John Kerry's defeat in the 2004 presidential election; others predicted that the move doomed Newsom's own political future.
"He's the first governor not old enough to have been sentient during the Manson crime spree…[he] was a toddler during the public uncertainty that accompanied the ultra-bloody Manson crimes."
Clearly Newsom was on the right side of history. In 2015 the U.S. Supreme Court ruled that state laws banning same-sex marriage unconstitutional – and while his executive order allowing gay marriage may have slowed his career, obviously it did not end it.
This year, shortly after taking office, he once again defied the voters. He signed an executive order halting executions in California while he's in office and giving a reprieve to the 737 people on the state's death row declaring that the death penalty is deeply flawed and immoral.
He did this, despite the fact that in 2016 voters approved an initiative to speed up executions and rejected one that would have ended the practice. Prosecutors and advocates for victims' families were enraged. Typical of the objections came from State Senator Jim Nielson, (R-Tehama), who claims Newsom's order has reignited the agony families have suffered,  "victimizing them all over again."
But once again, Newsom seems to be ahead of the curve. There's hot-off-the-press evidence that Californians have changed their minds in the three years since they approved the pro-death penalty proposition. According to a poll from the Public Policy Institute of California released on March 27, sixty-two percent of Californians now say they favor life in prison without the possibility of parole, compared to 31 percent who prefer the death penalty.
How does any of this relate to Leslie?  In some ways, not much.  She is not a death penalty case.  (She was sentenced to death in her first trial but in 1972 the U.S. Supreme Court ruled that the death penalty as it was then written and carried out constituted cruel and unusual punishment.  Her first conviction was overturned and when she was tried again, the death penalty had been reinstated but not for the crimes for which she was subsequently convicted.) Many people still believe she's what they call a death penalty reversal so express the view that she should be grateful to be alive.
One of the factors that has softened attitudes about the death penalty is the Innocence Project. Since it's founding in 1992, their work has led to the freeing of more than 362 wrongfully convicted people based on DNA evidence and meticulous reviews of criminal records, including 20 individuals who spent time on death row. In making his decision last month, Newsom referred to a National Academy of Sciences study published in 2014 estimating that one in 25 people who are sentenced to death are innocent. In California that translates to 30 people.
Leslie has never claimed innocence. The issue with her is whether, as a society, we believe in rehabilitation and redemption but many people who believe in both draw the line at some crimes. For them, the nature of these crimes and the fear they engendered, is where that line is.
Nonetheless, there's conjecture that Newsom's death penalty order will have ramifications for Leslie. .  There are those who believe he might reverse the parole board's decision to release her to prove to people angry about his death penalty order that he's not soft on crime. In an article published earlier this year in the Napa Valley Register, syndicated columnist Thomas D. Elias, expressed the view that Newsom's decision about Leslie's release is an opportunity for him to make a strong statement about how to treat perpetrators of the most heinous crimes, even if he can't tolerate executing them.
But Elias also suggests it's also possible that the governor will go the other way and cater to  "more forgiving Californians" by allowing her to be paroled.
Either way, Elias believes Newsom's age will be a factor in his decision. "He's the first governor not old enough to have been sentient during the Manson crime spree…[he] was a toddler during the public uncertainty that accompanied the ultra-bloody Manson crimes."
Mr. Elias may have a point. When I was working on my book, opinions about whether Leslie should be released were more determined by age than political persuasion. The fear and anger among many who remember those murders is still palpable; the younger the person, the more curiosity, the less fear.
Elias predicts that Newsom's decision about Leslie, no matter which way he goes, will have consequences for his political future, especially in combination with his death penalty move.
As inevitable as it may be, having Leslie's fate determined by political calculations is exasperating to her supporters. She has become an abstraction, a symbol. It's what she represents rather than who she is that is likely to be the determining factor for any governor who makes the decision.
One thing seems clear: it will take courage to go up against prosecutors and victim's rights groups. No one will ever erect a statue in honor of a governor who is guided by fairness to one of the Manson murderers.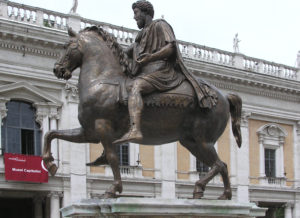 To be continued…..
*                *                 *
"From the first pages, I was completely sucked in….loved the mix of criminal psychology and historical significance."  Clues and Reviews
THE MANSON WOMEN AND ME now out in Paperback
I've been out of the loop for a few months so over the next few weeks I'll be sending out a few updates on me, my book and the Manson murders.
First, news about my book: I'm happy to report that The Manson Women and Me came out in paperback last month.  If you haven't yet acquired a copy, you can pick one up wherever books are sold, though, of course, my hope is that you'll patronize your local independent bookstore.  More choices: E-books at Barnes and Noble (Nook) and Amazon (Kindle) or, if you prefer to listen, there are audio versions available at Audible, Playster, Audiobooks, Downpour; some bookstores also carry it on CD.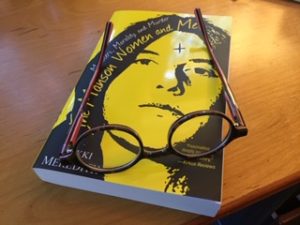 This year is the 50th anniversary of the murders so there's about to be a lot more attention focused on those two horror-filled nights in August, 1969. Stay tuned.
EVENT OCTOBER 3RD:
On Wednesday, October 3, 2018 at 7 30 pm. my daughter Caitlin and I will discuss  THE MANSON WOMEN AND ME at the Outdoor Art Club at #1 W Blithedale Ave, Mill Valley. I was thrilled to be invited to participate in this literary event at this local gem in the town where my husband and I raised our children.  The organization was formed in 1902 by a small group of women, who, as the story goes, had some time on their hands because their husbands were attending events at the Bohemian Club.  On a morning walk through the village, the women encountered workmen cutting down redwood trees near the town square.  Horrified, they organized to preserve the beauty of Mill Valley and to work against the wanton destruction of the environment. In addition to the organization's commitment to the environment, it also supports the development of outdoor art and is involved in literary, civic and charitable work.
If you've missed our previous events, please join us. If you haven't missed our previous events but you've had enough of me and the Manson family, come anyway to enjoy light refreshments at 7 pm and to appreciate the lovely grounds and the clubhouse, designed by famous architect Bernard Maybeck and listed on the National Register of Historic Buildings.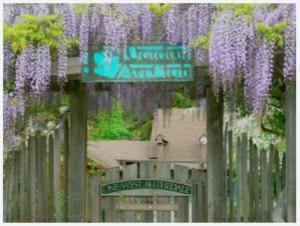 * * *
Listen to Nikki Meredith interviewed on KQED's Forum with Michael Krasny in "Exploring the Psyche of the Manson Women" here. Find out what Nikki learned in the process of writing the book when she explored "what motivates ordinary people to do extraordinarily horrific things."
And here's Nikki (and Big Bird) in the Green Room of KQED before the show.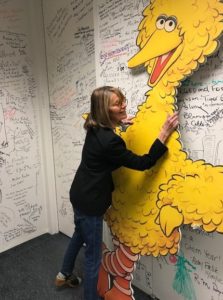 Nikki was also interviewed by the Marin Independent Journal to discuss what drove her to write The Manson Women and Me. "Meredith believes a lot of what drives jihadists today is what drove the Manson women — they're idealistic and searching for meaning. To write them off strictly as psychopaths ignores the bigger issues, she believes." Read more here.
Note from Nikki: "My thanks to Michael Krasny, KQED Forum, Book Passage Bookstore & Cafe and over 150 members of the Marin community for the conversation tonight about my new book. I was a bit overwhelmed with the standing room only crowd and loved the Q&A session about why. Delighted that my son Ben Holbert drove all the way up from Carlsbad and my daughter Caitlin Meredith flew in from Austin."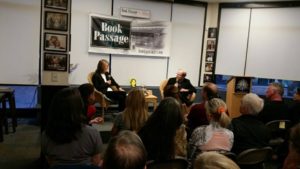 Thanks for a wonderful review at Lucien Welsh's blog! Lucien writes that THE MANSON WOMEN AND ME is "a very insightful and tastefully written profile on two women involved in one of the most famous crimes of the 20th century. Nikki Meredith is incredibly detailed in her research and her prose without being exploitative in any way or excusing the crimes." Read more of the review here.
Book Giveaway For The Manson Women and Me: Monsters, Morality, and Murder is now closed. There were over 1,000 entries. Thanks for entering! And thanks to GoodReads for hosting.