Home
»
The Manson Women and Me: Monsters, Morality, and Murder
The Manson Women and Me: Monsters, Morality, and Murder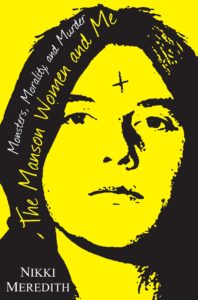 "Part memoir, part true crime, THE MANSON WOMEN AND ME is a must-read book. By looking back at the Manson crimes and trying to understand how and why Leslie Van Houten and Patricia Krenwinkel fell under the murderous spell of Charles Manson, Nikki Meredith reveals a disturbing reflection of America today." — Suzy Spencer, New York Times bestselling author of WASTED and WAGES OF SIN
Coming March 27, 2018
In the summer of 1969, Leslie Van Houten and Patricia Krenwinkel carried out horrific acts of butchery on the orders of the charismatic cult leader Charles Manson. At their murder trial the following year, lead prosecutor Vincent Bugliosi described the two so-called Manson Women as "human monsters." But to anyone who knew them growing up, they were bright, promising girls, seemingly incapable of such an unfathomable crime.
Award-winning journalist Nikki Meredith began visiting Van Houten and Krenwinkel in prison to discover how they had changed during their incarceration. The more Meredith got to know them, the more she was lured into a deeper dilemma: What compels "normal" people to do unspeakable things?
The author's relationship with her subjects provides a chilling lens through which we gain insight into a particular kind of woman capable of a particular kind of brutality. Through their stories, Nikki Meredith takes readers on a dark journey into the very heart of evil.
"Combining a compassionate memoir with meticulous journalism, author Nikki Meredith has produced a thought-provoking meditation on nothing less than the nature of evil. She cares about what causes it, but she doesn't stop there–once it's entered a person's psyche, she asks, can it be banished? Readers of true crime will find much to ponder here." — Julie Smith, American mystery writer
"Nikki Meredith uses her impressive journalist skills and narrative powers to give us a fully realized dimensional view of the infamous Manson-led killings that we have not seen before–specifically in helping us understand who the Manson women followers were and what led them to follow him in the throes of a moral maelstrom." — Michael Krasny, host of KQED's Forum
Order from IndieBound, which supports independent book stores!
or
or